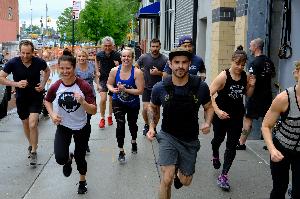 CrossFit South Brooklyn Memorial Day "Murph"
Come join our community as we take on the CrossFit Benchmark Workout "Murph"
"Murph"
1 mile Run
100 Pull-Ups
200 Push Ups
300 Air Squats
1 Mile Run
BBQ to start at 10:30am. Bring sides and beverages to share!
The workout is free (a group class will not be charged for members) but all are encouraged to donate what they might have paid for the class to K9's for Warriors!
View More

Achievements

$1,000 Raised
Four Meals for Warriors
Event Honor Roll
CrossFit South Brooklyn Shirts
$720
Greenspan-Ratner Family
$100
Eric, Jina & Adam Arbitman
$50
Recent Donors
CrossFit South Brooklyn Shirts
Gene
Mr. Daniel Rocha
Anonymous
Greenspan-Ratner Family