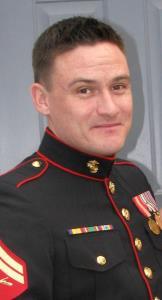 James Alexander LaPrade Memorial
For all of you who knew my son, you know he was an amazing man. It is especially difficult that he was taken from us in a brutal act of homicide.

After serving in Iraq and Afghanistan, Jimmy had some struggles. One day he went to the animal shelter, "just to see what kind of dogs were available" is what he told me. His eyes met with one dog and he knew that he had to have him. "Koda" was two days away from being euthanized so Jimmy literally saved his life. Koda returned the favor. Koda instinctively knew to wake him from nightmares and to guard over him so he could sleep, and was his constant companion.

The VA does not offer Veterans assistance in paying for the training of service dogs, so Jimmy could not afford to get him officially trained. I know my son, and he would love it if other Veterans could have the chance to have a service dog and the companionship that he had with Koda.

Thank you so much.
View More

Achievements

$1,000 Raised
Four Meals for Warriors
Event Honor Roll
4/4/17 Jeffrey, Adam, Zach & Randy Johnston
$200
4/17/17 Alida Levier
$100
7/21/17 Mary Jane Phillips
$100
4/4/17 Kathios and Wonyetye Family
$100
4/15/17 Alida Bermingham
$100
4/5/17 Charlotte Shaffer
$83
4/4/17 Priscilla Queen
$50
4/4/17 Christine Goulet
$50
3/30/17 Carol Strecker
$50
7/27/17 Walter Moulton
$50
3/23/17 Kenneth Demont
$50
3/22/17 Luke Marshall
$50
Recent Donors
4/4/17 Jeffrey, Adam, Zach & Randy Johnston
4/17/17 Alida Levier
3/30/17 Erin Hanley
6/7/17 Vicky Thorpe
6/7/18 Vicky Thorpe