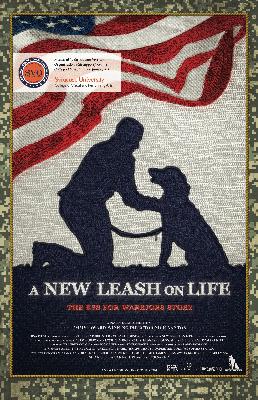 A New Leash on Life: The K9s for Warriors Story - Syracuse University Screenings
The purpose of these documentary screening events is to raise awareness and destigmatize mental health issues plaguing our community. For students, there will be campus resources available at the general audience screening. Veterans Affairs Resources will be be available for our veteran community.
Secondly, this is a fundraiser to save two lives - a shelter dog and a warrior. Our goal is $20,000 or better which will enable sponsoring a service animal for a post 9/11 veteran suffering from the invisible injuries of their service.
American Sign Language (ASL) interpretation and Communication Access Realtime Translation (CART) will be provided. The film will be closed captioned. For other accommodations requests, or if you have any questions, please contact Adam LeGrand at aslegran@syr.edu or 757-268-1569 one week prior to event (November 2, 2018).
When we become successfull and reach $20,000 in donations, we will have the opportunity to officially name a future service animal. Voting for the name will occur at the event. Name with the most votes wins! Suggested names: Otto, Tolley, and Shemin. (please note the photo of the puppy may not be the service animal named. Sponsoring/Naming program requires $20k in donations)
There will be a pannel discussion and Q&A prior to the film which has actual combat footacge and may be unsuitable for all viewers. Information will be available from Hendrick's Chapel, the Office of Student Support, Counseling Center, CareBridge, and Student Veterans Organization.
11/10/18
Doors open at 2pm
Pannel Discussion 2:30pm
Screening 3:30pm
Grant Auditorium, Faulk Hall
Parking at Irving Garage $5.50
This is a free event, but donations accepted.
Suggested Donations:
Students: $5
Veterans, Faculty, Staff: $15
Community Members: $20
Priority Seating: $50 - includes brief meeting with cast after the screening
Other opportunites:
Private Screening:
For anyone donating $1000 or more, a cast member will host private Q&A and screening at a reasonable location of the donor's choosing. Donor will recieve personalized thank you gifts including a K9s for Warriors Polo Shirt, gift bag, and personalized posters.
Sponsors:
For any individual or business looking to sponsor either of these events, please email the event host for details. Sponsoring businesses will earn additional perks for their business to include a formal presentation and thank you.
K9s for Warriors is a 501c3
View More

Adam LeGrand
$0

Achievements
No Badges Have Been Earned
Event Honor Roll
Jake Bendix & Carol Liebler
$40
Erica Blust & Shawn Rommevaux
$25
Recent Donors
Henry K
Amanda K.
Lisa Butkovich
Terry D Wheat
Jake Bendix & Carol Liebler