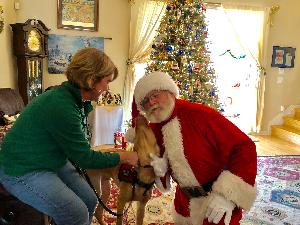 K9s Christmas 2018
Lynn and Debby Willis are cordially inviting you to attend the:
Annual Willis Christmas Open House
Saturday, Dec. 8, 2018
12:00 pm - 7:00 pm
740 South Heritage Creek Way
St. Augustine, Fl. 32084
Call 386-566-7040 for details.
The house is adorned stem to stern with 30 themed decorated trees, 19 wreaths and many holiday displays. Children are welcome when accompanied by an adult. Browse through the house at your leisure. Visitors can meet a K-9 in training and a visit from Santa. There will be a jar for optional donations to K9s For Warriors.
Can't attend the event, please help us with our fundraising by contributing to K9s For Warriors!
Making a donation is easy and safe- simply click the "Donate Now" button in the upper right to donate.
Make sure to bookmark this page and come back often to check on our progress!
Help us reach our goal to raise $800.00 and save both a warrior and a canine.
A & A Linas Granite 7
00 N. Ponce de Leon Blvd.,
St. Augustine has generously offered a match of up to
$500.
View More

Debby Willis
$795

Achievements

$1,000 Raised
Four Meals for Warriors
Event Honor Roll
A&A Linas Granite Match
$500
Cheryl Hamilton McDonough
$50
Stephen & Gail Summerhill
$25
Lee & Daryl Lee Tefteller
$25
Recent Donors
Community Effort
A&A Linas Granite Match
Merce Brotó-Comerma
Sally Ann Smith
Cheryl Hamilton McDonough