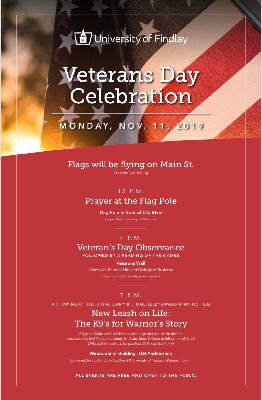 A New Leash On Life, A K9s For Warriors Story Screening, University of Findlay. This year's event will be on Veterans Day, November 11, 2019
The University of Findlay Student Activities Board and Wellness Program will be hosting a special screening of the film documentary "A New Leash On Life: The K9s For Warriors Story." This FREE EVENT is to assist them in their current fund raising efforts.
The film has won 4 Emmy awards, 3 Telly awards and has been featured on PBS, several media stations nationwide, worldwide as well on Amazon Prime. The film features local Paramedic, Louie Belluomini and his service dog Star with Hanco EMS in Findlay and Putnam County EMS in Ottawa, Ohio.
Attendees will have the opportunity to meet local K9 team Louie and Star, Shilo and K9 Javie and Adam and K9 Molly. All three teams are featured in the film. Their significant others will be present and will participate in a moderated talk back.
Everyone is invited to join us for a FREE fun and exciting time at the University. We invite you to make a donation in our name to the K9s For Warriors program.
Since first featuring the film last November, 2018, on campus, and as of June 13, 2019, we have reached our goal of $15,000 for sponsoring our FIRST service dog! Students decided to name the dog "Findlay" due to all the support received from the local community. The goal was increased to $30,000! The additional 15,000.00 will unite a SECOND service dog with a U.S. Veteran! Once the funds are raised, Student Activities Board plan on naming the second service dog "Hancock" in celebration of the county's support and efforts to make this goal a reality! Together we are making a "pawsitive" difference!
Thank you to the community supporters who have donated to date. Your generosity has enabled us to save the life of a dog and U.S. Veteran!
22 Veterans a day commit suicide. 90% of the dogs trained at K9's for Warriors are rescue dogs. By sponsoring a dog, investors are rescuing a dog and supporting a U.S. Veteran. It is fitting Flag City USA and Hancock County show support to our U.S. Veterans of this country and the K9's that are willing to be trained to serve and support them!
We are excited to share the film with you and honored to have you participating in this expierence on:

November 11, 2019
Location: University of Findlay, Winebrenner Theological Seminary's TLB Auditorium
950 North Main Street, Findlay, Ohio 45840
Program schedule:
6pm – walk around and take in the view of the 1000+ USA flags flying to celebrate our U. S. Veterans!
6:30pm find a seat in the auditorium
7pm Program begins
Screening of the film
Moderated talk back with US Veterans featured in the film, their significant others & their service dogs
Special Presentations
Auction
Meet & Greet with Veterans, significant others & K9s
Ways you can invest:
*DVDs of the Documentary will be available for sale and autographed $18.00ea. (Cash only)
*Cast autographed posters will be available for donations
View More
If you are a member of this team and would like to customize this page with a special message or team photo, please contact us and we can designate you as the team captain.

Achievements

$20,000 Raised
Group Sponsorship Level - Name Your Service Dog
Event Honor Roll
American Legion Department of Ohio
$5,000
St. Michael the Archangel Parish fundraiser
$2,281
Charles J. Younger Fund of The Findlay-Hancock County Community Foundation
$2,000
HFC Safety Council
$1,500
Combined Cash Donation
$1,062
Les and Pam Talmadge
$1,000
American Legion Ralph D. Cole Post #3
$1,000
Combined donations from amazing donors
$560
Candace & Jack Hendershot
$500
Coward, Pinski & Associates, LLC
$500
Louis Anthony Belluomini
$400
Henry and Stacy D'Alelio
$300
LaRiche Chevrolet Cadillac
$200
Central Joint Firefighters Assoc.
$200
Recent Donors
American Legion Department of Ohio
St. Michael the Archangel Parish fundraiser
Charles J. Younger Fund of The Findlay-Hancock County Community Foundation
HFC Safety Council
Combined Cash Donation