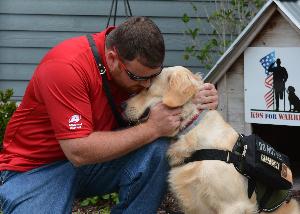 Smooch Your Pooch
So you want to partake in the K9s Smooch Your Pooch Movement?
Smooch Your Pooch is an awareness and fundraising movement by K9s For Warriors. We rescue dogs to rescue post-9/11 veterans from the invisible wounds of war, such as PTSD, traumatic brain injury and military sexual assault.
Spending time loving on a pet is proven to have multiple physiological benefits for humans. Giving and receiving affection from service dogs especially helps those who suffer from PTSD in ways like:
Bringing the veteran out of isolation by connecting them socially to those around them and their service animal

Reminding the veteran that there is no present danger

Redirecting focus to the loving service dog, rather than feelings of depression, panic or anxiety
How you will make a difference in the K9s Smooch Your Pooch Movement
Your posts will help spread awareness of our mission to save veterans' lives.

Smooching a pooch will give everyone who does it warm and loving feelings - happiness is contagious!

When people give, we'll be able to serve more veterans in need, faster. The ripple effect this has on rescue dogs, and veterans' families and friends is priceless.
K9s Smooch Your Pooch How To Guide
Accept the challenge

Record: Take a Smooch Your Pooch Selfie

Upload your photo and tag K9s For Warriors and use #k9spoochsmooch

Give $5 donation

Tag 5 friends
K9s For Warriors appreciates your help and support!
(Source: https://habri.org/research/ptsd/)
View More

K9s For Warriors
$30

Achievements

$1,000 Raised
Four Meals for Warriors
Event Honor Roll
Becky Zollner MVP for the Month of November at Virgin Pulse
$300
Ms. Patricia 'Patty' M Dodson
$100
Meg Weglarz and Maverick
$100
Sr. Chaplain Tyrone L. Chew
$50
Sher Domenico & Harley
$30
Recent Donors
Becky Zollner MVP for the Month of November at Virgin Pulse
Ms. Patricia 'Patty' M Dodson
Al Ford
Julayna Meyer
Anonymous