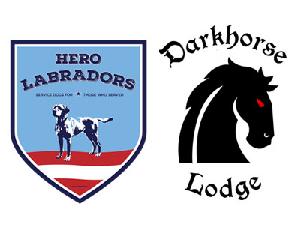 Army/Navy Challenge
Here's the deal...
Army/Navy Game time! Saturday, December 8th!
Hero Labradors (www.herolabradors.org) is rooting for Team Army.
Darkhorse Lodge (https://www.darkhorselodge.org/) is rooting for Team Navy.
K9sFor Warriors is rooting for all of us!
Donors "vote" by donating for either Team Army or Team Navy. Donors should add their team "Army" or "Navy" notation next to their name in parenthesis when donating in the box that reads "If not an anonymous gift, name to appear on site 'honor roll". Example: (John Smith (Team Army))
The real "Winners" are the Veterans and the dogs! All donations are eventually pooled and split with all three charities, so it's a win/win/win/win!
The "winning" charity gets bragging rights if their team wins! All three charities get much needed funding! The puppies get raised, fed, and trained! Heroes get a retreat for combat veterans from all branches to relax, fish on Kentucky Lake, enjoy area activities and communicate with others who have walked in their boots.
And apparently, someone wins a football game!
View More

Achievements
No Badges Have Been Earned
Event Honor Roll
Rick John (Team Army)
$100
Allen Carter (Team Army)
$100
Terri Szendrodi (Team Army)
$25
Recent Donors
Rick John (Team Army)
Jean Zabik
Allen Carter (Team Army)
Richard P. Lowe
Terri Szendrodi (Team Army)