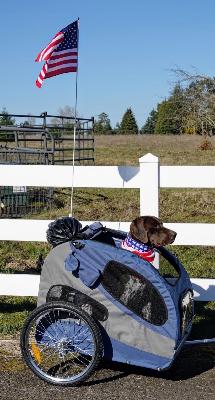 Jax and John Ride for K9s For Warriors
K9s For Warriors is dedicated to providing service canines to our Warriors suffering from Post-traumatic Stress Disorder, Traumatic Brain Injury, and/or Military Sexual Trauma as a result of military service post-9/11.
Our goal is to empower them to return to civilian life with dignity and independence. We are the nation's largest provider of service dogs for disabled American veterans.
Roughly 90% of our service dogs come from shelters, or are owner-surrendered. Instead of a life of abandonment or euthanasia, they are given a new purpose. With each graduate pair, we save two lives; we rescue the dog, and the dog rescues the warrior.
Your donation to the Jax and John Ride will make a difference!
To follow Jax and John's adventure on the web, go to www.RollingWithJax.com, or on Facebook at https://www.facebook.com/rollingwithjax/. Thank you for your interest in K9s For Warriors!
View More

John Tate
$250

Achievements

$15,000 Raised
One Service Dog Goes Through Three to Six Months of Training
Event Honor Roll
Better Homes and Gardens Real Estate Realty Partners
$5,000
Darin and Heather Barthlow
$500
Better Homes And Gardens Real Estate Franklin Group
$500
Fort Worth HopFusion Aleworks Event
$500
Julie and Phil Allen
$500
You are a champ John. Here's to you! Peckar
$250
Memory of Yolanda R. DiCindio
$200
Recent Donors
Better Homes and Gardens Real Estate Realty Partners
Darin and Heather Barthlow
Better Homes And Gardens Real Estate Franklin Group
James & Robyn Blake
Fort Worth HopFusion Aleworks Event