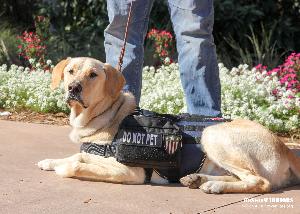 1st Annual K9 Helper Fundraiser
Hi all my name is Susan Goodfriend. I have had family and friends who have served thier country and I felt the urge to do something in return for those who have served. And so this is why I have decided to do this refundraiser. I want to show my support to those who are now in need of help.
K9s For Warriors is the nation's largest veteran service organization providing highly skilled service dogs to post-9/11, disabled American heroes. Our goal is to empower warriors to return to life with dignity and independence. Preventing suicide attempts and suicidal ideation is our number one objective. That's why the core of our training is focused on mitigating the symptoms associated with Post-Traumatic Stress Disorder (PTSD), Traumatic Brain Injury (TBI), and Military Sexual Trauma (MST).
Roughly 90% of our service dogs come from shelters or are owner-surrendered. Instead of a life of abandonment or euthanasia, they are given a new purpose. With each graduate pair, we save two lives; we rescue the dog, and the dog rescues the warrior.
View More

Achievements
No Badges Have Been Earned