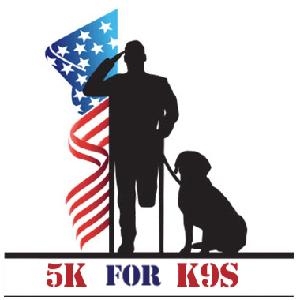 5K for K9s
Come and support our Veterans this November 11th by running in the 5K or "run-walking" in the 1-mile fun run race! It will begin at the Nease High School stadium. A course map will be attached soon. As part of an ambitious service project, a group of five Nease students planned this event. All proceeds will go to K9s for Warriors!
Interested in attending? Please visit this link: (will be updated)
Own a company interested in sponsoring us? Please also visit this link:
Full disclosure: after purchasing T-shirts, medals, banners (for companies that bought them), and cones for the race, the Gofundme will be linked to K9s for Warriors, and voila! Veterans and their service pups will feel the impact of your support!
Not interested in attending the event but are interested in supporting K9s? Click the "DONATE NOW" link to the right and follow the instructions!
K9s For Warriors is dedicated to providing service canines to our warriors suffering from Post-Traumatic Stress Disorder, Traumatic Brain Injury, and/or Military Sexual Trauma as a result of military service post-9/11 Our goal is to empower them to return to civilian life with dignity and independence. We are the nation's largest provider of service dogs for disabled American veterans.
Your donations will make a difference!
View More

Achievements
No Badges Have Been Earned
Recent Donors
Steve Hampson
Lindy Gostage