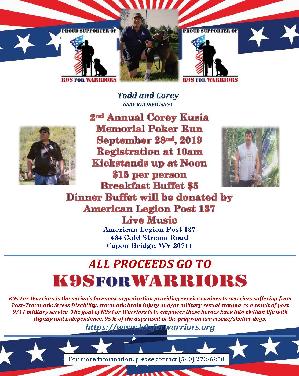 Second Annual Corey Kuzia Memorial Poker Run
As many of you know, Todd lost his service dog to cancer on June 4th, 2018. Corey changed his life in so many ways and he touched everyone's lives that came into contact with him.

Todd was matched with Corey by an amazing organization called K9s for Warriors. They rescue shelter dogs as well as retired military dogs and they match them up with our war heros, free of charge! They are non profit and they match up 12 dogs with these heros per month.

When they found out that Corey passed, they called Todd the very next day and graciously invited Todd to come back (when he feels ready) to be paired with another service dog. They also paid all of Corey's vet bills that were incurred trying to save his life and the cost of putting him down.

I was so impressed and touched when I found this out that I felt compelled to start an annual fundraiser for K9s for Warriors and also to keep Corey's memory alive! I applied through their website and told them that I wanted to do this and I was thrilled when I was approved to do this event on their behalf!

I'm praying that this run is a huge success and that we can help to save other Warriors that have sacrificed so much so we can be free! I hope you can join us in this mission!

All the stops will be at American Legions and VFWs in the area. Capon Bridge, Moorefield, Romney, and Wardensville. The American Legion Post 137 is donating the dinner buffet as well as letting us use their banquet hall free of charge! Hope to see you there!
View More

Achievements
No Badges Have Been Earned